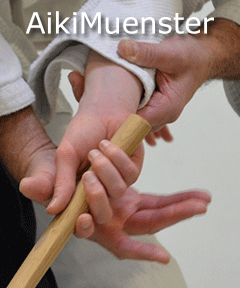 instructor:

David Ross, 5 Dan, Shidoin
Gabi Bixel, 4 Dan, Shidoin

address:

TG Muenster, Lotharingerstrasse 17, 48147 Muenster, Germany

www:

email:
The AikiMuenster Dojo was established in September 2013 as part of the Turngemeinde Muenster, a well-recognized local sports organization. We offer classes three times a week (beginners and advanced) including weapons classes. Each class is two hours in length. Chief instructors are David Ross, 5th Dan, Shidoin and Gabi Bixel, 4th Dan, Shidoin. Currently we have twelve active members.