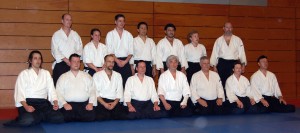 During the seminar in Barcelona on 23 – 25 March 2012, there was a meeting of instructors belonging to Sansuikai International. Sensei Yamada clearly emphasized the aim of establishing this organisation:

Sansuikai can be thought of as an "agreement" aimed at supporting my European students in terms of organisation. However, it is a non-political and non-profit organisation and does not constitute competition to national federations. That is why, instead of using the word "organisation" I prefer to use "agreement", which should be based on four principles: Friendliness, Fairness, Freedom and Flexibility
Sensei Yamada emphasized that only those dojos in which instructors are his direct students and regularly participate in his seminars (at least three times a year) can become members of the organisation. Participation in seminars and commitment to training are the main conditions set by Sensei for his students.
During the meeting in Barcelona, Sensei awarded Fukushidoin (up to 3rd Dan) and Shidoin ( 4th Dan upwards) certificates to Sansuikai instructors.
More information on the subject of Sansuikai International and the requirements which Sensei sets for his students can be found here.